PRIVATE TUITION & ONLINE EDUCATION
RHYTHM COLLECTIVE

ACADEMY
LEARN TO PLAY THE DRUMS WITH EXPERIENCED PROFESSIONALS
​
LEARN YOUR FAVOURITE SONGS AND HAVE THEM PROFESSIONALLY RECORDED
STUDY CONTEMPORARY ARTISTS
​
YOUR CHOICE OF LOCATION
​
ONLINE LESSONS WORLDWIDE
​
FIND THE PERFECT TUTOR FOR YOU
​
LEARN ALONGSIDE A MOVEMENT OF LIKE-MINDED PEOPLE
FIND YOUR VOICE THROUGH THE ART OF DRUMMING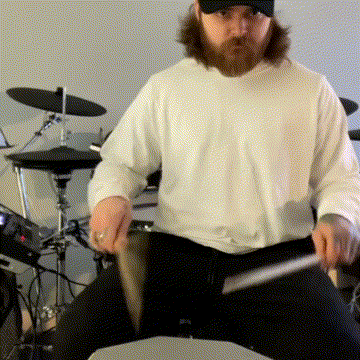 STUDY FUNDAMENTALS OF DRUMMING
​
ENHANCED TECHNIQUE BUILDING
​
AFFORDABLE LESSON PACKAGES
​
CUSTOM PLANS TAILORED TO YOUR GOALS
​
TAILORED TUITION PACKAGES
​
ONE X ONE-HOUR LESSON
LEARN MORE ABOUT THE RHYTHM PROCESS
PICK UP SOME ESSENTIAL DRUMMING TIPS
​
FOUR x ONE-HOUR PRIVATE SESSIONS
CUSTOM TUITION PLAN
CUSTOM WEEKLY PRACTICE PLAN
WEEKLY CHECK-IN
​
​
EIGHT x ONE-HOUR PRIVATE SESSIONS
CUSTOM TUITION PLAN
CUSTOM WEEKLY PRACTICE PLAN
WEEKLY CHECK-IN
MONTHLY PROGRESS MONITORING
DISCOUNT FOR NON-STUDENTS
ENQUIRE FOR PACKAGE PRICING
10% DISCOUNT FOR ALL STUDENTS (STUDENT I.D/PROOF OF STUDY REQUIRED)
WHAT OUR STUDENTS HAVE TO SAY
The first lesson with Jack was awesome! Made me feel incredibly welcome, and at ease. He explained the fundamentals of the lesson, how lessons are structured going forward and taught in a clear, easy-to-understand manner. Worked at the pace I felt comfortable with, offered advice on how to improve, and made me feel confident in what I was doing. So pleased I found him as my new teacher! Excited for the next lesson and more!
Had a lesson with Jack! This was my first time playing the drums and was a Christmas present. I have always wanted to try and see if I could play. Well, Jack was very patient and very good at breaking down the basics, he showed different ways of learning so depending on how you as an individual learn, Jack has a teaching method to help you. By the end of the lesson, I was playing along to the music which surprised me. I really felt a sense of accomplishment at the end of the lesson and that is all down to Jack and the way he teaches!
I started my drumming lessons with Jack and I have nothing but praise for his work. He's very patient, encouraging, and paces the class perfectly. His classes are motivating, interesting and a lot of fun. I'd highly recommend.
Had a brilliant lesson with Jack. Lovely space and fantastic equipment. Clearly, an experienced musician whose lesson was both informative and a lot of fun. Jack is tailoring his lessons around my goals and I'm looking forward to progressing further with him.
My daughter was made to feel really welcome by Jack. He is very patient and built an instant rapport with her, taking her through some basics and music theory but in a way that was engaging. By the end of the lesson had her playing Billie Jean. She is already looking forward to future lessons.
I had a trial lesson with Jack just to see if I was capable of learning something new. I have a lifetime ambition to learn to play the drums. I do not have the dexterity and mental agility that I once had but Jack's style of teaching was just right. He has the intuitive skills to teach in the student's space and I am looking forward to my next lesson.
Had my first lesson with Jack today. What a great fantastic first drum experience! Jack is a superb teacher. Professional and friendly, he put me at ease and I felt excited to learn rather than nervous about being a newbie. I learned tons! Much more than I was expecting for the first lesson. We covered warm up, technique, the kit, rudiments, a beat and a fill, drum notation, so much. Jack teaches so well I was surprised that I picked things up quicker than I ever dreamed possible for a first lesson. I left buzzing and wanted to learn more so I've signed up for the 8 week package. Highly recommended, for sure!